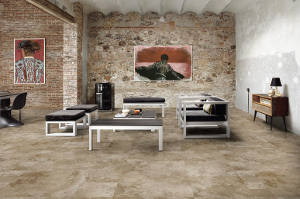 Del Conca USA's new Siena Collection is a modular series of porcelain stoneware tiles with the realistic look of natural stone, developed specifically for the American market.
Siena utilizes Digital Technology to create its natural appearance. This glazed porcelain tile comes in 18"x 18," 12"x 24," 12"x 12" and 6" x 6" formats. 12" x 12" mosaic sheets and 3" x 12" bullnose pieces are available, as well. According to Del Conca, the collection is ideal for both commercial and residential use. Available in three colors Gray, Bianco and Noce, Siena provides multiple creative opportunities.
"Because Siena is made in the USA in a very centralized location, delivery is always expedient, and projects for which it is specified qualify for LEED points," said Juan Molina, Del Conca USA's general manager, sales and marketing. "Another very major benefit of this product line, is that our customers will recognize strong profits by offering it to theirs," added Molina.
The Siena Collection as well as the entire Del Conca USA line can be seen at the firm's Coverings exhibit L9063 at the Las Vegas Convention Center, April 29 to May 2.