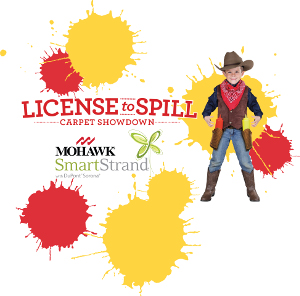 Mohawk has been named a finalist in the SABRE organization award's Home and Furnishings category for its License to Spill campaign, an interactive coast-to-coast tour in collaboration with the nationally syndicated "The Better Show."  The year-long campaign engaged the public in fun, on-site demonstrations to showcase the unprecedented cleanability of Mohawk's SmartStrand carpet.
"It is an extraordinary achievement to be selected as a finalist for the most prestigious award in the public relations industry," said Elise Demboski, vice president of creative services at Mohawk. "We are delighted that SABRE recognized the creative uniqueness of our License to Spill campaign and thank "The Better Show" team for their support, ideas and willingness to partner in ways that redefine integrated marketing." 
Mohawk and "The Better Show" traveled the country from March 2013 to November 2013, bringing "License to Spill" to festivals in Boston, Atlanta, Hilton Head, N.C., Chicago, Philadelphia, Denver, Portland, Seattle, Los Angeles, Las Vegas and Phoenix. Festival-goers across the country were invited to spill normally tough stain-producing agents such as chocolate, soy sauce and red wine on SmartStrand carpet—and then clean it with just water. On-site celebrity designers and Mohawk spokespersons addressed flooring or design questions, and Mohawk's "License to Spill" team, along with the co-hosts of Better Show, provided coverage of all the mess-making. Better Show also hosted an event recap at every stop, which broadcast in 170 markets and reached more than 1 million viewers per show.
Additionally, Mohawk hosted two incredibly successful Twitter parties – which trended at a national and global level – and worked with top-tier bloggers to spread the word in the digital space. The tour resulted in phenomenal exposure for SmartStrand and Mohawk. Local retailers also joined in the excitement by hosting their own "License to Spill" events, which successfully increased sales.
Founded in 2000, SABRE seeks to raise the standards of the public relations industry globally by highlighting best practices from organizations around the world. The competition now includes separate programs in North America, the EMEA region and Asia-Pacific and attracts thousands of entries from countries worldwide. The SABRE Awards will be presented at the organization's annual awards dinner in New York on May 6.