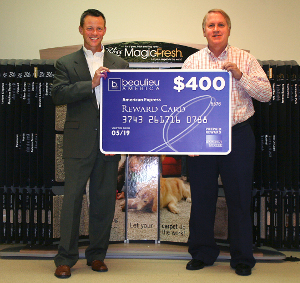 Beaulieu's Mike Amburgey, left, CMO, and Mike McAllister, director of marketing, introduced the mill's double rewards promotion.
Beaulieu announced a one-month bonus that will enable retailers to earn a $400 American Express Gift Card for every 200 yards they sell in any combination from these collections. The company describes this new offer as a "promotion within a promotion" since it had already offered retailers a $200 American Express Gift Card for the 200 yard sales threshold. The "double the rewards" promotion is a limited time offer and orders must be placed between May 1 and  May 31 to qualify.
"We're pleased to offer a $400 gift card for every 200 square yards ordered in our Bliss Magic Fresh and Bliss Perfection lines for the month of May," announced Mike McAllister, marketing director for Beaulieu. "This is the largest promotional monetary reward we've ever offered at Beaulieu and there are no limits to the amount a retail salesperson can earn."
The Bliss Magic Fresh collection includes some of Beaulieu's most popular styles and colors, all with the company's exclusive Magic Fresh built-in feature that reduces common household odors such as pet, smoking and cooking odors.
Bliss Perfection is Beaulieu's soft carpet collection made with its proprietary Nyluxe BCF nylon fiber and comes with Magic Fresh, 3M Scotchgard formulated for Beaulieu and a lifetime stain warranty.
"We realize 2014 has been challenging for many retail sales associates due to the weather and reduced store traffic, so we wanted to offer this incredible opportunity to make up lost ground during May," noted Mike Amburgey, chief marketing officer, residential of Beaulieu. "Every product in this promotion features our exclusive Magic Fresh treatment that reduces odors by breaking them down, not masking them like many air freshening products now offered for the home."
Dealers must meet eligibility requirements and register with their Beaulieu America representative to participate. Details are at AccessBeaulieu.com. Promotion dates are May 1 to 31.