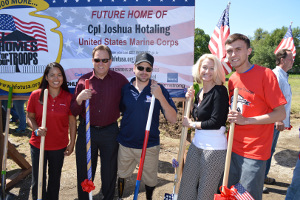 At the ground breaking ceremony are, from left,Tanya Evangelista of Armstrong, Jeff Krekelberg of Gold River Carpet One, Cpl. Joshua Hotaling, and Gold River's Meridith and Blake Krekelberg.
A special ground breaking ceremony took place in Loomis, Calif. to officially kick-start the construction of a new home for Cpl. Joshua Hotaling, sponsored by Homes for our Troops (HFOT).
Cpl. Hotaling, a mine sweeper, was working to clear a compound for his battalion during his first deployment to Afghanistan on May 13, 2011, when he suffered the traumatic amputations of both of his legs and severe hand injuries in an IED blast.
Working with materials supplied by Armstrong, the exclusive flooring partner for HFOT, retailer Gold River Flooring will provide the flooring labor and installation for the new home. "We are proud to contribute to this most commendable goal of providing veterans and their families with home ownership, and we encourage the public to support a vital, invaluable project that helps our military rebuild their lives," said Meridith Krekelberg, Gold River Flooring America owner. Gold River serves the communities of Rancho Cordova and Rocklin, California.
The proceeds from the company's American Scrape Hardwood collection fund the product donation to the 30+ builds annually. In addition, Armstrong's Alterna LVT also is installed in every build
For more information, visit http://www.hfotusa.org/hotaling#project_updates/