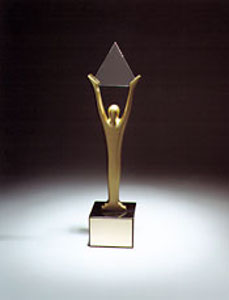 The Gold Stevie Award has recognized achievement in business to organizations and individuals in more than 60 nations since 2002.
Flooring America is a finalist in the Brand Experience of the Year category in the American Business Awards (ABA), and will ultimately be a Gold, Silver, or Bronze Stevie Award winner in the program.
The American Business Awards will be presented at two awards events: the ABA's traditional banquet on Friday, June 13 in Chicago and the new product and technology awards event on Friday, September 12 in San Francisco. 
More than 3,300 nominations from organizations of all sizes and in virtually every industry were submitted this year for consideration in a wide range of categories, including Most Innovative Company of the Year, Management Team of the Year, Best New Product or Service of the Year, Corporate Social Responsibility Program of the Year, and Executive of the Year, among others. Flooring America is nominated in the Brand Experience of the Year category for the consumer industry for its 'Where Friends Send Friend Mobile Tour.'
"The 'Where Friends Send Friend Mobile Tour' turned out to be a magical brand experience for our customers as well as our members," said Frank Chiera, vice president of marketing for Flooring America. "What started out as a tour to get customer testimonials turned into a combination of membership engagement and mini-focus groups on why customers choose to shop local, providing us with immense insight and solidifying our position of becoming the most recommended flooring store in North America. To receive national recognition and be a finalist for the American Business Awards is just icing on the cake."    
Finalists were chosen by more than 150 business professionals nationwide during preliminary judging in April and May. More than 150 members of several specialized judging committees will determine Stevie Award placements from among the finalists during final judging, to take place May 13-22.   
Details about the American Business Awards and the list of finalists in all categories are available at
www.StevieAwards.com/ABA