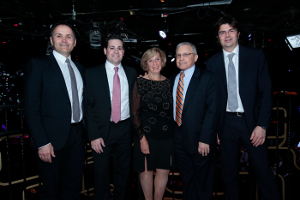 Pictured from left to right: Emilio Mussini, vice president of promotional activites for Confindustria Ceramica; Matthew Karlin, Ruth Karlin, and Bert Karlin of Nemo Tile Company; and Vittorio Borelli, president of Confindustria Ceramica.
Nemo Tile Co. was recently honored with the Confindustria Ceramica North American Distributor Award.
The annual award was presented to Matthew Karlin, president of Nemo Tile and Bert Karlin, chairman at Coverings during a special cocktail party at The Bank Nightclub in Las Vegas..
Nemo Tile is a 93-year-old family-owned business, serving as a resource for porcelain and ceramic tile/ The company currently has four showrooms throughout New York.