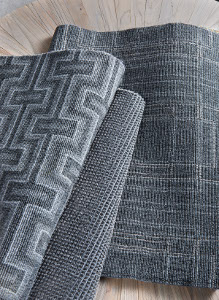 The Mohawk Group's new Simply Tailored woven collection will be featured at NeoCon in June. 
The Mohawk Group is launching Simply Tailored, a woven collection in partnership with interior designer Lauren Rottet. Simply Tailored, a Karastan Contract broadloom collection, is offered in several styles and features a stunning array of patterns from pin dot tweeds to sophisticated line forms. The multi-faceted designs are constructed to impress and endure.
"Karastan has a rich history of craftsmanship. As a brand, we make beautiful rugs and broadloom carpets with a longstanding tradition of luxury," said Jackie Dettmar, vice president of product development for Mohawk Group. She added, "Today's leading designers trust and value our brand, our commitment to sustainability, as well as the beauty and luxury of our products. Partnering with someone as talented as Lauren Rottet was a natural fit for us, as her works celebrates the beauty we strive to achieve in each of our collections." 
Inspired by well-tailored, one-of-a-kind business attire, the patterns are clean, classic, and modern. According to the company, the collection is an example of the integration of traditional age-old craftsmanship and industrial modern production techniques. It celebrates form and uses subtle patterning with a classic color palette.
Simply Tailored features DuraColor Premium Nylon fiber, which offers inherent and permanent stain resistance. Additionally, DuraColor is now offered with a 30% recycled content. The recyclable collection is CRI Green Label Plus and Gold NSF/ANSI-140 Certified.
Simply Tailored will be featured at NeoCon in June.