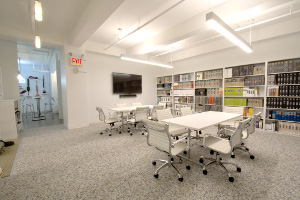 A conference room at the newest RD Weis Co. location in Manhattan. 
RD Weis Co. has opened a new office/showroom on West 30th Street in Manhattan. The office was designed by interior designer Mike Stark using products specifically from vendors who are a part of the Starnet buying group, of which RD Weis is a member.
"Our original plan was to redesign our existing office, but necessity dictated otherwise and I believe the change in look and locale will make a huge and positive impact on our place in the market," said President Randy Weis. " The design creates an overall expression unique to the RD Weis brand and personality: classical yet eclectic, and always professional."
According to Stark, the challenge was to create a showroom as a place of the future– both interesting and forward thinking. The design served as a change in the way the office functioned, not just a change in materials.
The materials chosen complement the space and highlight the functionality of an open, collaborative work environment.
Working with budget and time constraints, the new office design consists of three main areas:
• A bar/entertainment area creates a space of rough and inherent beauty using Amtico Fragment resilient LVT for easy cleaning and maintenance in this high-traffic area. A metallic sheen complements the open, industrial feel.
• A large conference room/library using playful Art Media carpet tile from Milliken —a brand-new product to complement this brand-new showroom/showplace. This area represents the "new and exciting" and places visitors in front of this whimsical and energetic pattern.
• The business zone consists of work stations on ASM raised flooring using Bentley Illuminated Linen to give the space a beautiful background texture that's more subdued and business-like.