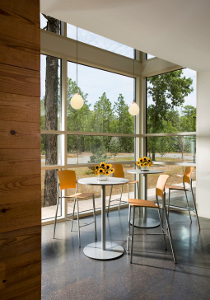 Expanko Resilient Floors' new XCR4 Cork/ Rubber flooring.
Expanko Resilient Floors' new XCR4 Cork/Rubber flooring is naturally resilient and environmentally friendly, according to the company.
According to Expanko, XCR4 provides performance characteristics of resilience and acoustic contributions, durability and low maintenance for museums, educational facilities and sports stadiums nationwide.
In addition to providing a colorful, water resistant and durable surface, XCR4 can be installed with heat welding rods to create a truly seamless floor. With heat welded seams and natural occurring inhibitors resisting the growth of bacteria, fungus or mold—XCR4 is suitable for a wide range of commercial and residential applications, such as kitchens, restaurants, auditoriums, child care centers, bathrooms, offices and educational facilities, according to the company.
Expanko offers heat welding rods to match the color of each of the 25 standard colors of XCR4. Custom colored weld rods and XCR4 are also available. 
For more information, visit expanko.com