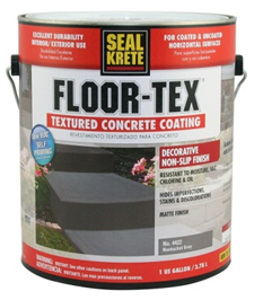 Seal-Krete's Floor-Tex Textured Concrete Coating is now available in two premixed colors. 
Seal-Krete, manufactured by Convenience Products, now offers grab-and-go convenience in two premixed colors for Floor-Tex Textured Concrete Coating: Nantucket Gray and Wicker Brown. 
According to the company, Floor-Tex is a premium, acrylic paint that hides stains, discolorations, and imperfections in concrete which makes it a great coating for concrete with minor cracks and stains. It provides a durable and decorative non-slip finish on walkways, porches, patios, pool decks, and wood stairs. It is also low VOC and nationally compliant.
Click here to learn more about Floor-Tex.