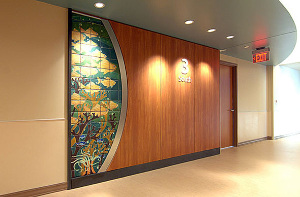 One of two murals provided by Motawi Tileworks for the new St.Joseph Mercy Hospital Oakland South Patient Tower.
St.Joseph Mercy Hospital Oakland features two Motawi Tileworks murals in its new South Patient Tower, which opened to patients earlier this month. 
The murals, which took eighteen months from concept to installation, are now on display in the $145 million dollar addition to the hospital.
Designed by Motawi owner, Nawal Motawi and graphics designer, Matt Strum, the murals follow the healing arts theme of the new tower. The hospital wanted to feature Michigan artists whose designs would evoke messages of peace and healing for the patients, visitors and staff in the facility.
The murals are on the third floor of the new South Patient Tower located in the elevator lobby and the reception area.
There are currently seventeen Motawi Tile murals in the main tower at the University of Michigan Medical Center as well as in the Health System's Cardiovascular Unit. Murals are also installed in Henry Ford Hospital and Oakwood Hospital.
For more information, visit motawi.com