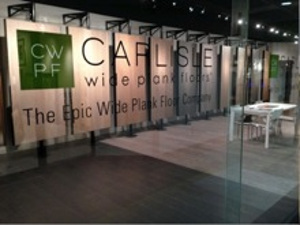 Carlisle celebrated celebrated the grand opening of its first Canadian showroom in Toronto at Source of Furniture & Accessories (SOFA) on Thrusday, May 29.
Carlisle Wide Plank Floors celebrated its first Canadian showroom in Toronto at Source of Furniture & Accessories (SOFA) with an invitation-only grand opening event on Thrusday, May 29.
Showcasing Carlisle's newest collections and custom wide plank hardwood floors, the company's showroom is a destination for flooring design and inspiration, according to the company.
"Our client base in Canada has experienced tremendous growth within the last few years, so the opening of a Toronto showroom was a natural extension for the Carlisle brand," said Michael Stanek, president and CEO of Carlisle. "We're excited about our new presence in Ontario and providing trade professionals in the region with the unparalleled quality and craftsmanship of our floors. "
Carlisle's Toronto showroom showcases the company's latest collections with panel displays and provides product samples and brochures to further educate designers on Carlisle's SlowCraft approach to milling every floor one board at a time.
"I'm really looking forward to introducing the Carlisle brand to even more local designers and to have a beautiful new space for them to experience our handcrafted wood flooring and superior quality first-hand," said Darryl Ainey, Carlisle wide plank specialist.
Carlisle's new Toronto showroom is located in the International Centre at 6900 Airport Road, Suite 116, Mississauga, Ontario. Office hours are Monday through Friday 10 a.m. to 4 p.m., and Saturdays by appointment. For more information, or to schedule a visit, visit wideplankfloors.ca/contact/showrooms.