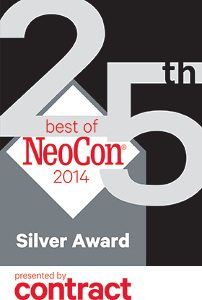 USFContract was awarded the Best of NeoCon Silver – Hard Surface Flooring for the company's new Stratum XL engineered luxury vinyl long plank.
USFContract, the commercial division of USFloors, was awarded the Best of NeoCon Silver – Hard Surface Flooring for the company's new Stratum XL engineered luxury vinyl long plank.
The award, sponsored by Contract Magazine, was announced at the 25th Anniversary Best of NeoCon Awards Breakfast in Chicago.
Mark Brunelle, USFContract National sales manager accepted the award on the company's behalf, noting, "It's such an honor to be recognized with the prestigious Best of NeoCon award. It validates the innovation that went into designing the product, and the unique solutions it provides for architects, designers, and end users that are specifying LVT. " Piet Dossche, USFloors president and CEO and COO, Philippe Erramuzpe are credited as the designers of Stratum XL, according to Brunelle.
Innovative, patent-pending construction of Stratum XL
Stratum XL, is the latest in engineered luxury vinyl plank and an extension of the Stratum ELV line introduced in 2013. Featuring the rigid, patent-pending COREtec extruded core construction, Stratum XL is waterproof, stable, and easy to install, according to the company. The hallmarks of the XL products are beautiful and bold rustic-to-modern hardwood visuals with exceptional clarity and a 20 mil wear layer for commercial performance. Like the Stratum ELV floors, Stratum XL can be installed in large rooms as a floating floor without having unsightly and cumbersome expansion gaps every 30'. According to the company, the dimensional stability allows for a continuous, uninterrupted floor in rooms of virtually any size. However, Stratum XL can also be installed using a glue down method if necessary.
Unique & Sustainable LVP
Stratum XL has a COREtec core which contains post-industrial recycled wood and bamboo flour. An attached cork underlayment provides each plank with a renewable component that enhances the product with sound attenuation and improved comfort underfoot.
According to the company, Stratum XL floors are backed by a 15 year heavy commercial warranty and is a superior option for a variety of commercial end uses including retail, hotel/motel, bar & restaurant, property management, education, institutional, and corporate administrative spaces and public areas.
GreenGuard GOLD Certified
A third-party certification, GreenGuard Gold, UL Environment's most stringent testing requirement, ensures the acceptability of a product for application in education and healthcare facilities. The GreenGuard Gold Certification requirements comply with the State of California's Department of Public Health Services Standard Practice for Specification Section 01350 (California Section 01350) for testing chemical emissions from building products used in schools and other environments. As such, GreenGuard Gold Certified products can be used to earn valuable credits in the CHPS Best Practices Manual for K-12 schools, the US Green Building Council's LEED Green Building Rating Systems, the Green Guide for Healthcare, the NAHB Green Building Guidelines, Green Globes, Regreen and many other building codes, standards and specifications.
For more information, visit USFContract.com.