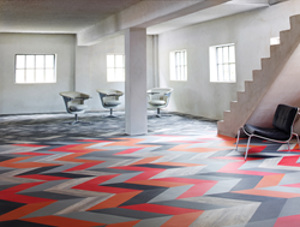 Patcraft's new Mixed Materials collection integrates carpet and resilient side-by-side without interruption.
Patcraft recently unveiled its Mixed Materials collection at NeoCon. The collection integrates carpet and resilient side-by-side without interruption and enables designers to designate spaces within open, collaborative environments using mixed materials and shapes, according to the company.
We set out to solve the greatest flooring challenge with collaborative spaces – and we did. Patcraft's new flooring option provides unique alternatives for the commercial market to define spaces in ways that only walls and furniture have been able to do in the past," said Pamela Rainey, ASID, IIDA, Patcraft's creative director whose inspiration and team collaboration led the development of Mixed Materials. "We were inspired by designers and end users who need the ability to transition flooring in collaborative work and learning spaces. By using resilient and carpet tile without limitations, designers are liberated to create visual cues that better allow for the learning, creating, healing, selling, and collaborating that take place in open environments."
According to Rainey, the Mixed Materials collection is engineered so that the carpet and resilient work together – using different shapes as well as Patcraft's 24" square carpet tiles. In creating the line, Patcraft's design team found inspiration from designers and manufacturers who are seamlessly combining hard and soft materials, including wood, metals, fabrics, and other contrasting materials. Available in both carpet and resilient tile, the collection can be used to create unique patterns in the space including room-defining insets, large-scale graphic patterns, and wayfinding elements.
The collection is available in 19 colorways – nine woods and 10 metallics and two styles– Wood Planx and Metallix.
For more information about the Mixed Materials collection, visit patcraft.com.