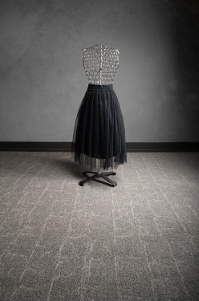 Mannington Commercial has collaborated with Mary Bledsoe of lauckgroup for the new Stylist collection.
Mannington Commercial has launched the Stylist collection in collaboration with Mary Bledsoe of lauckgroup.
Inspired by wardrobing in the fashion world, Stylist is a series of strikingly beautiful patterns and colors, built to let designers create their own stories, according to the company.
"I think every designer is a stylist at heart," says Bledsoe. "So we created Stylist to include products with a large degree of subtlety, and others with a high degree of pattern, as a series of pieces that designers can mix and match to suit their project."
Available in both modular and broadloom, Stylist's products create interest through patterns that move from classic foundational pieces to mid-scale aesthetics to luxurious and bold designs. The family of products use timeless, warm and cool color combinations in neutrals as well as bright fashion hues to complement any space, according to Bledsoe.
The range of textures and patterns can be used to define the different functional areas of a space while keeping a seamless, cohesive aesthetic. The combination of layered foundational and bold patterns and colors, coupled with Mannington's reputation for durability and performance, makes the new collection especially well-suited for corporate environments.
Antron 6,6 premium nylon fiber and Mannington construction unite to create a low maintenance, high durability carpet. Lifetime warranty for edge ravel and delamination, staining, and wear. Colorsafe lifetime bleach warranty and Xguard lifetime stain warranties also apply.
For more information, visit mannington.com.