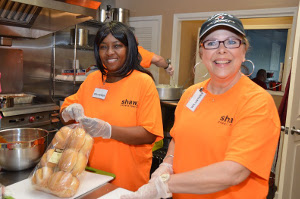 Shaw Industries associates completing a project for United Way as part of the company's annual Live United Week of Service.
Shaw Industries and approximately 900 of its associates in northwest Georgia completed 59 projects for United Way as part of its annual Live United Week of Service, according to the company.
Supporting 41 agencies and schools in northwest Georgia, Shaw associates helped at food pantries, daycares and classrooms by planting trees, cleaning up debris, painting and stocking shelves among other activities that support United Way's mission to improve lives by mobilizing the caring power of communities to advance the common good.
"Shaw's headquarters and more than half of our associates are based in northwest Georgia. We are one of the largest employers in the area, and local community and civic involvement are particularly important to us, said Joel Hughes, Shaw's United Way campaign chair and director of supply chain business solutions. "This is where we live, work and play. United Way is uniquely positioned to identify and respond to the needs in our local community, and we're proud to support them and to provide Shaw associates with an opportunity to support causes they are passionate about."
Shaw has worked closely with local United Ways, particularly in Northwest Georgia, since 1968. The company's efforts have support the community priorities identified by United Ways of Northwest Georgia, which are education, basic needs and health. 
"Shaw Industries embodies the spirit of corporate philanthropy and social responsibility," said Amanda Burt, president of United Way of Northwest Georgia.
In 2013, Shaw and Shaw associates donated more than $2.1 million to United Way, including more than $1.5 million from associates. Shaw associates are central to local United Way operations, holding dozens of board seats and other volunteer positions, according to the company. Brenda Knowles, vice president of marketing and product development for Shaw's commercial division, serves as the current United Way of Northwest Georgia board chairperson.
For more information, visit shawfloors.com.