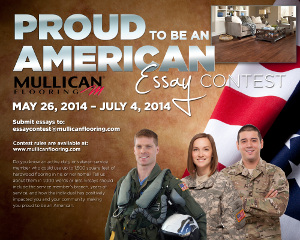 Mullican's "Proud to Be an American" essay contest ends Friday, July 4.
Just a few days remain to submit an essay for Mullican Flooring's "Proud to Be an American" essay contest.
The contest, designed to pay tribute to members of the U.S. military, encourages the public to write essays highlighting active duty military personnel or retired veterans, according to the company. The military service member who is profiled in the winning essay will be awarded a grand prize of up to 1,500 square-feet of American-made Mullican flooring.
Mullican will continue to accept essays highlighting active duty military personnel or retired veterans through July 4. The company began accepting submissions on Memorial Day. Each entry will be judged on originality and the service member's impact on his or her family and community. The winning essay will be selected by a panel of Mullican Flooring employees.
To enter the contest, visit mullicanflooring.com and follow the appropriate links and instructions to complete the contest registration form. Essays should describe a deserving member of the U.S. Armed Forces by detailing his or her specific achievements or service. In addition, essays need to include the service member's branch, years of service, and how the individual has impacted you and your community, making you proud to be an American.
"We hope this contest will inspire people to reflect on our active duty and retired military members, and we look forward to learning more about their experiences and valuable contributions to our country," said Brian Greenwell, vice president of sales and marketing for the Johnson City, Tenn.-based company. 
Entrants must be legal residents of the U.S. who have reached the legal age to participate in the contest in their state or district of residence. Mullican employees and their immediate families, as well as employees of the company's affiliated advertising and promotion agencies, are not eligible to enter. The winner will be selected by Aug. 15 and notified on or around Sept. 1. 
For additional contest rules and information, visit mullicanflooring.com.