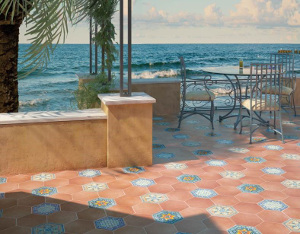 Rustic ceramics are a summer trend to watch, according to Tile of Spain.
According to Tile of Spain, rustic ceramics are a trend to watch this summer.
Rustic tile collections from Spanish ceramic tile manufacturers are key choices for decorating terraces, balconies and gardens frequently used in summer, as well as the high traffic spaces between interiors and exteriors of homes, according to the organization. Rustic floor and wall tiles also bring back a feeling of tradition, not only in country homes but also in modern interiors.
The natural hues of terracotta and rustic ceramic can add warmth and personality to a space. One of the most original characteristics found in both terracotta and rustic tiles are the irregularities in the finishes, so there are no two pieces alike.
There are several formats—square, rectangular, hexagonal, octagonal, etc.—and in each line there is a wide variety of complementary pieces such as decorative edges, moldings, inserts, baseboards and steps. Besides the natural finish, there are rustic tiles available that are decorated with beautiful glass and enamel inlays as well as artisan crackles and subtle veined pieces, another way to personalize any space.
 For more information, visit tileofspainusa.com.