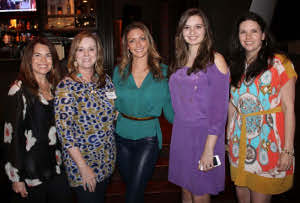 From left: Lisa Robinson, founder Of Dwell With Dignity; Kim Turner Dwell With Dignity; Erinn Valencich, celebrity designer, NBC's "American Dream Builders contestant and Quick•Step designer partner.
Quick•Step recently co-hosted an event in Dallas to benefit local charity started by interior designers, Dwell With Dignity.
"Our Quick•Step brand of quality laminate flooring is all about style and design," said Paij Thorn-Brooks, vice president of brand marketing for Unilin (Quick•Step's parent company). "So we were a natural fit to co-host an event benefitting the interior design-based charity Dwell With Dignity." 
According to Thorn-Brooks, Dwell With Dignity helps families who are working hard to get back on their feet, after a tragedy or undeserved hardship. Dwell provides them with a place to live that is 'not just-a-roof-over-their-heads', but a home that has been decorated by local interior designers with items donated from Dallas designers and showrooms, so the family's new apartment home is functional, beautiful, and emotionally uplifting.
"There is a universal human desire to live in a home that is a personal hauicven, a space where we feel relaxed, inspired, and comfortable to take care of life's business and make memories with our families," said Erinn Valencich, interior designer, style expert, recent contestant on NBC's new design reality show American Dream Builders, and Quick•Step's celebrity designer partner. 
"This 'live-ability of design' philosophy is shared not only by Quick•Step and me, but is also embraced by Dwell when providing new living spaces. They create a space that is beautiful and emotionally uplifting, yet functional and able to stand up to the needs of busy working moms who are raising, educating, and having fun with their children." 
Quick•Step hosted the evening cocktail event / silent auction with Dallas' Anatole Hotel. The event was held in the Anatole's SÉR restaurant on the 27th floor of the hotel, overlooking the Dallas skyline. Special guests included Valencich as well as other celebrated designers from the local market. 
For more information, visit us.quickstep.com.