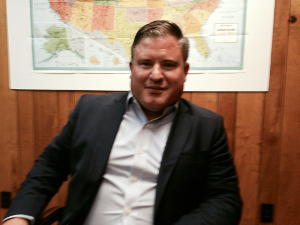 Joshua McGrane has been hired as its executive vice president of Max Windsor USA.
Joshua McGrane has been hired as its executive vice president of Max Windsor USA. McGrane will assume full responsibility for the company's operations, sales and marketing activities, according to Peter Spirer, CEO of Max Windsor.
"[Josh's] background is one of remarkable success in floor coverings, as vice president of Stone Wood Floors , a hardwood supplier, and before that, as a senior manager and vice president of Beaulieu of America's Builder Division," commented Spirer. "He is widely known and respected among the country's largest retailers and distributors for his intimate knowledge of the hardwood sector."
Max Windsor USA was recently purchased by Peter Spirer, a veteran floor covering executive and founder of Horizon Industries prior to its sale to Mohawk. "Max Windsor USA will become the hardwood equivalent of Horizon, the product powerhouse of the carpet industry through the 1970's and 80's. The cast of characters in the industry may have changed, but the customer's needs remain the same... to work with reliable resources who know that it takes great products to generate great sales and profits. Josh's amazing grasp of the way things work in the hardwood sector, together with his high energy and impressive customer following will help position Max Windsor as a supplier of choice in 2015."
Commenting on his new position and immediate plans, McGrane remarked, "A couple of months back when I read articles about Peter's purchase of Max Windsor, I knew that's where I wanted to be. He's a proven leader and a winner in whatever he's touched. We're going full-bore to position the company at the top of the sector, and will be launching the future of hardwood at Surfaces East in Miami Beach in October. Our exhibition will capture the imagination and interest of flooring buyers, the movers and shakers who can spot real product winners."
McGrane will headquarter at Max Windsor's offices in Adairsville, Ga.
Click here for more information.