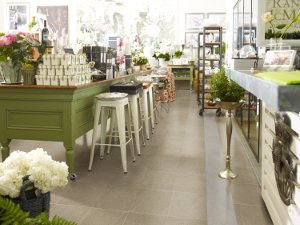 Crossville's new Basalt collection offers porcelain tile that is reminiscent of volcanic stone.
Crossville's Basalt is a porcelain tile collection reminiscent of volcanic stone.
Inspired by the look of its natural namesake, the collection features fine graining and the subtle appearance of crystalized magma. Additionally, the tiles in this line aren't rectified (cut for precision); they are pressed to create calibrated edges that offer a more nuanced, authentic feel and style, according to the company.
According to Lindsey Waldrep, Crossville's vice president of marketing, the simplicity of size options coupled with the thoughtfully developed color selections make this product extremely versatile for commercial and residential use, even for budget-conscious projects.
"We developed Basalt to fit a need in the market for high-end, stone-look porcelain collection that's offered at an attractive price point," explained Waldrep."This product has the potential to complement a range of design styles with its timeless look and superior quality."
The collection comes in two modular sizes, 12 x 24- and 12 x 12-inches, and five earthen colors: Silica, Caldera, Bedrock, Mafic, and Magma. The colors are crafted to incorporate the warm brown undertones as found in oxidized minerals that run through natural basalt. The result is a range of hues that retains the appearance of crystals formed when volcanic magma is forced to the surface.
For commercial installations, the surface texture of Basalt provides appropriate Dynamic Coefficient of Friction or DCOF yet remains extremely simple to clean and maintain.
"This combination of performance characteristics is ideal for areas receiving a great deal of traffic," said Waldrep.
Basalt is recommended for interior floors, walls, countertops, and exterior walls in both residential and commercial applications. Product specifiers may also choose to have Basalt tiles enhanced with Crossville's Hydrotect coating, a finish applied during a second firing process to give the tile antimicrobial, self-cleaning, and air purifying properties.
For more information, visit crossvilleinc.com.