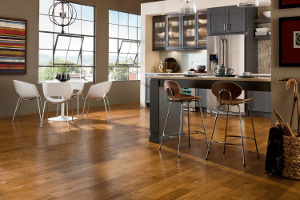 Armstrong will now manufacture its scraped engineered hardwood flooring at its Somerset, Ky. facility. 
Armstrong World Industries announced it will transfer the manufacture of scraped engineered hardwood flooring from its plant in Kunshan, China to its Somerset, Ky. facility. Production will stop in Kunshan Sept. 30, and the facility will be put up for sale shortly thereafter.
"This is a business decision driven by strides in innovation and logistical realities," said Tom Mangas, Armstrong Flooring CEO. "With the increasing cost of freight and labor in China, it just makes sense to move our production here where we actually sell the product. This helps us offset raw material cost inflation, and at the same time, we eliminate several months in lead time, and we improve our response to design trends and service requirements. The Kunshan plant has performed well, but the cost and service improvements we can realize by manufacturing domestically make this the smart move for the business. This is an important step in helping us to restore our wood business to acceptable return on capital."
He added, scraped engineered wood floor demand in the U.S. has grown substantially over the last several years. About 18 months ago, Armstrong invested significantly in people and proprietary processes at the Somerset facility and began to manufacture a scraped wood floor product called American Scrape which has been very successful. Close evaluation revealed the entire scraped product portfolio can be made in the U.S. at a competitive price with shorter lead times and better customer response and service overall. The plan is to transition the Frontier Hickory product line first, followed by Century Farm, Rural Living and Legacy Manor.
Magnas noted, the company has added about 20 jobs to Somerset with American Scrape production. The transition from Kunshan when complete in 2015, could bring another 80 jobs the Somerset facility.
For more information, visit armstrong.com.