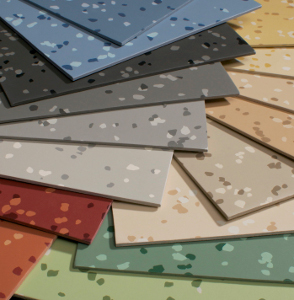 nora systems has expanded its noraplan eco line with 16 colors.
nora systems has recolorized its noraplan eco line with 16 colors.
"The all-new color palette is the result of nora's commitment to regularly review its product offerings and ensure that our floor coverings continue to align with customer needs and design trends," explained Amy Bostock, global brand manager of nora systems. "In this case, we gathered customers from around the world in a workshop and presented them with 60 samples to study and comment on. Based on the feedback they provided and additional input from our sales force, we created a color palette that features 16 entirely new colors."
The eco-friendly, economical floor covering uses recycled materials to create a smooth, high-performance floor covering that features a two-tone randomly scattered color chip pattern, according to Bostock. More than 86 million square-feet of the popular flooring have been sold since its introduction in 1999 for use in a variety of applications including healthcare, and education, such as Medical Center East in Birmingham, Ala., Boone County Schools in Kentucky, and Grand Valley Schools in Ohio.
According to the company, the permanently resilient noraplan eco does not contain any PVC, plasticizers or halogens and is GREENGUARD Certified for Low VOC Emissions and GREENGUARD Gold Certified for Low VOC Emissions. Available in tiles, rolls and stairtreads, the floor covering is highly ergonomic for walking and standing and features high footfall sound absorption properties and an extended life cycle, which reduces the need for frequent removal and disposal.
For more information, visit nora.com/us/eco-new-colors.