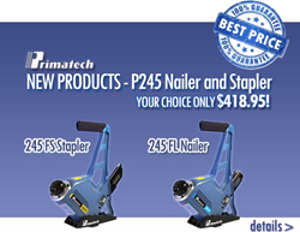 Philadelphia Floor Store (PFS) and Primatech have teamed to launch the Pro 245 Nailer. 
Philadelphia Floor Store (PFS) has teamed with Primatech to launch the Pro 245 Nailer. PFS will serve as the national distributor of the Pro 245 and will offer exclusive pricing during the product's initial launch.
Primatech Pro 245 is the latest addition to the company's Pro series of hardwood floor fasteners. The fixed-base flooring tool, which is available as a nailer and a stapler, is designed with many of the same features as the other fasteners in Primatech's Pro series at a reduced cost of ownership, according to the company.
Primatech's decision to develop a slightly scaled-down Pro series model was in direct response to the industry's demand for a competitively priced product that could deliver the quality expected of the more expensive flooring tools. According to Curtis Richard, national account manager for Primatech, "The P245's all-around striking surface and powerful click valve mechanism will please even the most discriminating installer."
Primatech's decision to partner with PFS to launch the P245 nationwide was a result of the flooring distributor's leading reputation and large national reach via its ecommerce platform—phillyfloor.com. Richard continued, "It was an easy decision, as Philly Floor continually implements effective marketing strategies designed to reach customers across multiple media channels."
"Primatech is well-known for its innovative design and durability and we are proud to have been selected to deliver its newest hardwood flooring tool, the P245 Nailer, to market," said Mike Galvin, founder and owner of PFS.
For more information, visit phillyfloor.com.