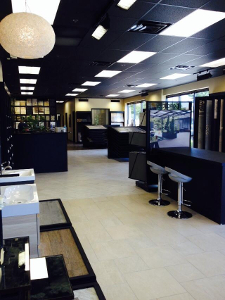 Florida Tile's newest showroom in Boise, Idaho.
Florida Tile has opened its second tile and stone showroom in four months, this one in Boise, Idaho.
Michael Franceschelli, Florida Tile CEO and Luca Setti, senior executive vice president branch sales and organization, officially celebrated the opening of the new 11,000-square-foot facility located at  2965 S. Featherly Way with vendor partners, local dealers, designers and local community and business leaders.
In March, Florida Tile opened a nearly 15,000-square-foot showroom and warehouse in Dallas.
Four years ago, the company began re-fitting existing showroom/warehouse sites across America and opening new ones in cities like Boise and Dallas where there is a recognized demand for higher-end tile products and a market attuned to products made in the USA, according to the company.
In 2006 Italian tile manufacturer, Panariagroup, purchased Florida Tile. Within a year, and with a $25 million investment from Panariagroup, a completely modern Florida Tile porcelain tile manufacturing plant was opened in Lawrenceburg, Ky. That plant now operates three fulltime shifts 24 hours a day, and according to the company, products manufactured there contain a minimum of 40% recycled content.
For more information, visit floridatile.com.