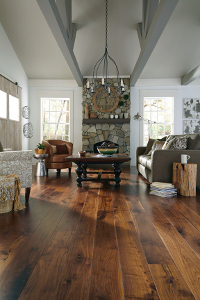 Walnut wood floors by recently launched wide plank flooring brand, Shannon & Waterman.
Shannon & Waterman, a recently launched brand of wide plank flooring, is offering walnut wood floors with the company's specially crafted satin finish.
According to Shannon & Waterman president Todd Waterman, walnut is a very popular choice for wood floors because of its beautiful graining, rich hues and durability.
"When coupled with the subtlety of the satin finish, our walnut wide plank floors offer a sophisticated, storied look that works as a foundation for everything from contemporary to traditional design styles," Waterman explained. "It's a timeless classic that's been popular for generations, yet it's so on-trend for today."
Shannon & Waterman's satin finish on the rich walnut wood provides added depth to the surface's appearance, enhancing the natural detailing of the timber. "This finish translates wonderfully on our wide planks to really bring the design of an entire space together," Waterman added.
For more information, visit shannonwaterman.com.