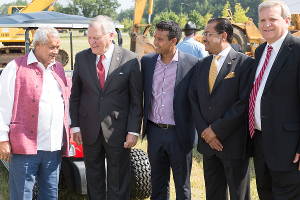 From left: Surya Tiwari, Surya founder; Nathan Deal, Georgia Governor; Satya Tiwari, Surya president; Ajit Kumar, consul general of India; Steve Taylor Bartow County commissioner.
Surya broke ground on its new one million square-foot warehouse and office headquarters in Cartersville, Ga., on Tuesday, Aug. 5.
Attendees at the groundbreaking ceremony included Surya Tiwari, company founder, Satya Tiwari, company president, Nathan Deal, Georgia Governor, Steve Taylor, Bartow County commissioner and Ajit Kumar, consul general of India, along with Surya employees and members of the Cartersville-Bartow County Department of Economic Development. Work at the building site began on Wednesday, Aug. 6 and the facility is expected to be completed by August 2015 with a target move in date of late 2015. 
"To optimally serve our customers, we need to not only have the best infrastructure possible for our warehousing operations and logistics but also a central location where our sales and marketing, design, creative, customer service and other teams can easily collaborate," said Satya Tiwari. "Our location is ideal because we are able to support economic development in the community by bringing new jobs to the area while making our company more attractive to Atlanta talent due to the shorter commute time. This expansion is beneficial on many levels and we look forward to what the future will bring as we execute on our goal to become a $1 billion company within the next ten years." 
The new facility is located 15 minutes south of Surya's current U.S. headquarters in Calhoun, which will continue to be used for warehousing some of the company's products. 
For more information, visit surya.com.