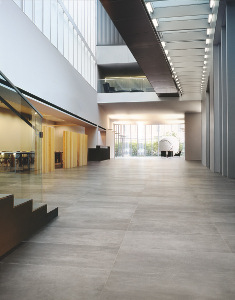 Concept Surfaces has expanded its tile options with the addition of Icon.
Concept Surfaces has added Icon porcelain tile to its inventory of tile options. Exclusive to Concept Surfaces, Icon is now available in a proprietary hexagonal shape.
Concept Surfaces worked in collaborated with its factory in Italy to design this unique shape. According to the company, the shape was created to inspire unique designs and applications, and because of its pre-cut shape, installers can achieve distinct patterns without the hassle and cost of field cutting. 
Icon, with its concrete appearance, can be used on floors and walls, making it versatile and suitable for a variety of installations. This tile is high resistance and non-porous, which contributes to the minimal maintenance required, according to the company.
For more information, visit conceptsurfaces.com.