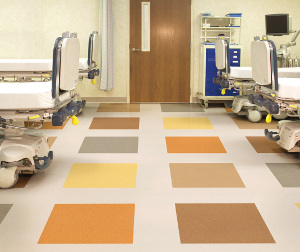 Tarkett's #WeLikeItNatural social media contest will educate educate users on the benefits of the company's iQ Natural product.
Tarkett has launched its  #WeLikeItNatural Creative Contest. The contest, which runs through mid-October, uses an interactive photo challenge over Tarkett's social media channels to educate and engage architects, designers and product specifiers using the Johnsonite iQ Natural product, according to the company.
As part of the #WeLikeItNatural promotion, Tarkett is giving current and prospective specifiers the opportunity to see and feel their top four color choices of Johnsonite iQ Natural and submit photographs featuring the product samples in an outdoor environment. The top submissions will be showcased on the Johnsonite Facebook page for voting. Weekly drawings will be held and three finalists (as determined by total votes) will be eligible for the grand prizes—a $500 REI gift card or one of two Tarkett FitBit activity trackers. 
"We know that architects and designers like to engage with products and touch and feel samples," said Jeff Krejsa, senior vice president with Tarkett North America. "Through this fun, interactive contest, we are not only able to educate users on the benefits of our iQ Natural product, but help drive their creativity by building a more in-depth familiarity with the product. We also hope this will encourage specifiers to take a more environmentally-focused approach to product selection." 
According to Krejsa, iQ Natural combines beauty, high performance and sustainability. Developed to meet the demands for interior spaces that perform as a platform for productivity, iQ Natural is the only no wax, no finish product in the marketplace, he said. Featuring a plasticizer based on renewable resources that increase the product's natural content to 75%, iQ Natural is an ideal solution for a variety of applications ranging from healthcare and education to offices and retail. 
For more information about the #WeLikeItNatural Contest, visit the Johnsonite Facebook page facebook.com/johnsoniteflooring.