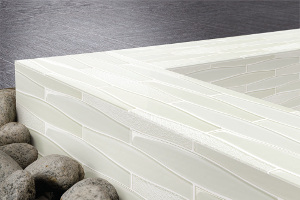 Bellavita Tile's new Pisces Collection, shown here in Beluga.
Bellavita Tile's new Pisces Mosaics Collection combines texture, finish, shape and layout in an infinitely variable program, according to the company.
The collection features three distinct textures: textured-front, textured back and flat in both glossy and matte, balance and complement each other like the Yin and Yang of the Pisces zodiac symbol.
"We have always been fascinated with playing with complementary shapes and textures," stated Mike Ward, vice president of sales for Bellavita. "Our Pisces Collection uses the precision of high-pressure water-jet cutting to bring a classic mosaic shape to our clients in a whole new way. The process of trimming geometric glass programs has always been difficult for customers; we wanted to change that with Pisces. We spent a lot of time getting the right mix in a 12-piece 'trim kit' to make it easy to finish a corner or use Pisces as an accent with other products."
With two blends, Dorado and Stingray and two solid colors, Beluga and Chinook, Pisces provides options allowing an installation to be as bold or unobtrusive as any design or personality may dictate. The large format and water-jet cut shape create a statement of its own, without further need for embellishment in spaces both large or small, according to Ward.
For more information, visit bellavitatile.com.