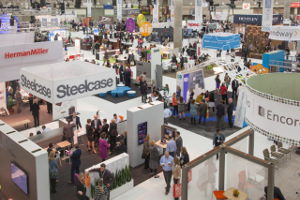 NeoCon East will be held in Baltimore, Oct. 29 & 30.
Now in its 12th year, NeoCon East will be held again in Baltimore, Oct. 29 & 30, at the Baltimore Convention Center.
According to show officials, this year's edition will offer even more resources, brand new initiatives and provide an immersive experience of what's new and notable in the industry.
Show officials said the two-day trade event will showcase more than 250 brands across a wide range of sectors, including workplace, government, healthcare, hospitality, retail, education and public spaces. NeoCon East will also feature product launches from top manufacturers, educational programming that includes CEU-accredited seminars, timely keynote presentations and events.
According to show officials, highlights will include:
• The latest in commercially focused products, materials, and cutting edge technologies from more than 250 brands
• Featured presentations by industry professionals including: Shashi Caan, architect, designer and president of the International Federation of Interior Architects/Designers and Kevin Salwen, journalist and author of Design Leveraged, a special report done in conjunction with the International Interior Design Association (IIDA) and the Business  and Institutional Furniture Manufacturers Association (BIFMA).
• Over 35 CEU-accredited seminars and association forums
• Events including IIDA's Opening Day Breaking Boundaries breakfast with featured speaker Helen Marriage, co-founder of London-based Artichoke (artichoke.uk.com), and producer of urban spectacle, celebration and "disruption." Proceeds from the breakfast benefit Health Care for the Homeless.
• A new floor plan with expanded product categories and easy to navigate layout that will include interior building products; technology; interior finishes and materials; and furniture and flooring.
• McMorrow Report Partnership: a special Facility Manager/Exhibitor match program offering extensive reach to a subscriber base of 42,000 facility managers in corporate, government, healthcare and sustainable vertical markets.
• Special GSA Features—the largest design expo and conference featuring the greatest concentration of products and services under GSA's Multiple Awards Schedules Program.
For more information, visit neoconeast.com