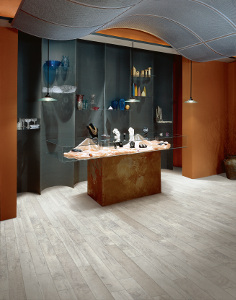 New laminate flooring from Armstrong's expanded commercial collections.
Armstrong World Industries has expanded its commercial laminate collections to offer new products that provide a solution for sought after trends in today's commercial interiors, according to the company.
"Armstrong is on the cutting-edge of commercial laminate design," said Brian Parker, product manager, Armstrong laminate. "By providing more variation in the design with a high number of unique planks, multiple plank widths and lengths, mixed-specie visuals, wood character and scrape textures, and new colors, we are solving the desire for the realism of hardwood by creating designs that are real to both the eye and the touch, with style, warmth and sophistication. Print image quality, surface textures, gloss levels, randomness in species and planks, and finishing bevel treatments all matter. Many of our designs have won awards, speaking to the beauty, uniqueness and realism portrayed in these collections, with such brilliant detail they are often mistaken for real hardwood."
Within the Architectural Remnants collection, Woodland Reclaim has two new colors, old original wood brown and old original barn gray.
Woodland Reclaim provides the look of nine reclaimed hardwoods—birch, red oak, sycamore, pine, teak, elm, ash, white oak and hickory—in 16 planks with three different widths. The ability to create a high number of unique planks and multiple widths results in the variation that is so beloved and popular in reclaimed hardwood, Parker explained.
He said Global Reclaim, a new design in the Architectural Remnants collection, blends reclaimed exotic wood looks—apple wood, eucalyptus and maple—in 18 unique planks with dusty blush tones. This new design will create a soft, elegant look to any upscale retail environment.
Within the Rustics Premium collection, the new Reclaimed American Chestnut, sepia brown, provides a new look to chestnut, enhanced with natural knots and mineral streaks. The new design, Forestry Mix, provides a blend of three hardwood looks—hickory, white oak and red oak, and three colors (white washed, gray washed, and brown washed). Each color has 24 planks displaying the varied stain characteristics of each species, creating a solution at an affordable price, according to Parker. To round out the new designs, Millwork Block offers the distinct look of premium oak strips, assembled into planks, glazed with stain, and enhanced by a subtle undulating surface treatment—in 18 planks.
"Our commercial laminate floors are fast and easy to install, while offering easy maintenance, all at an affordable option," added Parker. "Plus, the high density core and durability of the commercial wear layer, AC4 and AC5, provide the performance required for resistance to stains, fading in sunlight, and wear from high foot traffic synonymous with commercial environments." 
For information, visit armstrong.com.