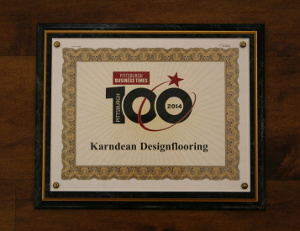 Karndean has been named to the Pittsburgh Business Times Top 100 Fastest Growing Companies for the second time.
Karndean Designflooring has been named to the Pittsburgh Business Times Top 100 Fastest Growing Companies for 2014.
The Pittsburgh 100 recognizes the fastest-growing private companies in western Pennsylvania. Karndean ranked #4 within the Retail/Wholesale/Distribution category. This is the second straight year that Karndean has received recognition in the Pittsburgh 100. 
"This award is a testament to the quality of our products and services, and the hard work of the Karndean team," said Ed Perrin, CEO of Karndean . 
Emil Mellow, Karndean's vice president of marketing, said value is a key component to the company's growth. "When people invest in a new building project or upgrading their home, they want the best quality and value. When buying a floor, it must combine beauty and durability. Karndean meets these requirements. Our goal is to maintain our premium brand without compromising our quality and value. That's key to Karndean's continued growth."
According to Mellow, Karndean is poised to begin an expansion of its Pittsburgh headquarters facility this fall. The project will more than double the size of the current facility, increasing warehouse, distribution, production, and office space to improve efficiency. 
Mellow also said the company continues to expand its efforts in both residential and commercial sales. On the residential side, Karndean is adding independent retailers across the country. Commercially, Karndean is expanding its team of sales representatives to provide comprehensive local support the A&D community.
"This means a lot to not only our company and our industry, but also the local community. One of our corporate goals is to work with and support local vendors. As our company grows, we're also creating local jobs and increased business that add to the health of the local economy," added Mellow.
For more information, visit karndean.com.