TISE East Registration Under Way
Dallas—Registration for The International Surface Event East (TISE East), being held Oct. 19 to 22 at the Miami Beach Convention Center in Miami Beach, Fla., is well under way.
Over four days, attendees will have the opportunity to view thousands of products, tools and technology on display in two exhibit halls and attend over 50 top-notch educational sessions, on-floor demos, networking events, certification programs and off-site tours, according to show officials.
Online registration is available on the show's redesigned website, TISEeast.com. Attendees can choose from multiple exhibit, VIP and education registration packages to best fit their interests.
Those attending the show are encouraged to download the TISE East mobile app, which works for users of iPhones, iPads, Androids and Blackberrys. Designed to make the show experience more productive, users can register directly from their device, access hotel reservations, connect with other attendees using the Friends feature or use the QR Code scanner to find out more about exhibitors and products while at the market, according to show officials. Additionally, the app is a functional tool that allows attendees to search the exhibitor list, access the floor plan, add education sessions and events to their schedule and post their experiences on Facebook and Twitter while at the event.
For more information, call (866) 550-6808 or visit tiseeast.com.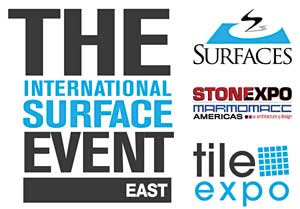 Surfaces 2015 Expecting Record Attendance
Dallas—According to show officials, The International Surface Event (TISE) 2015, being held Jan. 20 to 23 at the Mandalay Bay Convention Center in Las Vegas, is expected to draw record attendance.
"It's clear that the floor covering, stone and tile industries recognize this unique opportunity to connect with a brand new audience" said Amie Gilmore, show director for The International Surface Event. "A significant number of companies are expanding their booths and space on Level 2 (Editor's note: At press time, she told Floor Trendsthat space on the level is almost sold out). "Our team is currently in discussions with a number of other major industry players who are close to coming on board. We continue to have new exhibitors added to the show."
According to Dana Teague, vice president of Hanley Wood Exhibitions, owner of the event, a 7% increase in attendance this year over 2013 brought a renewed optimism across all product categories on the show floor this past January. "The large number of pre-scheduled appointments, necessitated the assistance of additional account executives from other Hanley Wood managed shows to facilitate meetings with over 700 exhibitors. The additional staff paid off—85% of participating exhibitors reserved space for the 2015 event on-site before the last day of the 2014 show."
Teague said show attendees can expect a revamped education program, tool demo stations, relaxation lounges along with the return of popular pavilions and visitors spots such as the Product Marketplace and Trends Hub.
For more information, call (800) 547-3477 or visit tisewest.com.
Armstrong Moves Scraped Engineered Wood Production to U.S.
Armstrong will now manufacture its scraped engineered hardwood flooring at its Somerset, Ky., facility instead of in China.
Somerset, Ky.—Armstrong has moved the manufacturing of its scraped engineered hardwood flooring to the company's Somerset, Ky., plant from its facility in Kunshan, China, which is now closed.
 "This is a business decision driven by strides in innovation and logistical realities," said Tom Mangas, Armstrong Flooring CEO. "With the increasing cost of freight and labor in China, it just makes sense to move our production here where we actually sell the product. This helps us offset raw material cost inflation, and at the same time, we eliminate several months in lead time, and we improve our response to design trends and service requirements."
The Kunshan plant, he said "has performed well, but the cost and service improvements we can realize by manufacturing domestically make this the smart move for the business. This is an important step in helping us to restore our wood business to acceptable return on capital."
According to Mangas, the U.S. demand for scraped engineered wood flooring has grown substantially over the last several years. "About 18 months ago, Armstrong invested significantly in people and proprietary processes at the Somerset facility and began to manufacture a scraped wood floor product called American Scrape which has been very successful."
With the success of this product and after close evaluation, he said the company realized the entire scraped product portfolio can be made in the U.S. at a competitive price with shorter lead times and better customer response and service overall.
The company has added about 20 jobs to Somerset with American Scrape production. The transition from Kunshan, when complete in 2015, could bring another 80 jobs the Somerset facility, Mangas said.
For more information, call (717) 397-0611 or visit armstrong.com.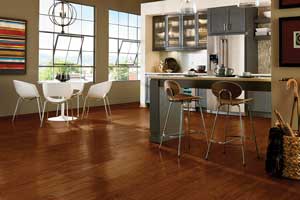 NWFA Enhances Installation Courses
NWFA regional instructor Keith Long, left, owner of Thunderheart Flooring in Greeley, Colo., and Matthew Young, who came from Australia to attend NWFA's Intermediate Installation and Intermediate Sand & Finish training courses at its St. Louis headquarters in June, install the field of an unfinished wood floor before students install borders and learn to drop-in a medallion in an existing floor.
St. Louis—The National Wood Flooring Association (NWFA) is taking its training to the next level, with the introduction of Intermediate Installation and Intermediate Sand and Finish training courses.
Now four-days, these courses offer time for classroom and hands-on learning in each skill area, said Brett Miller, NWFA director of certification and education. "In our first intermediate training sessions to use the new, four-day format, conducted in June, we had more than 40 students from various segments of the wood flooring industry, including from manufacturer, distributor and contractor companies."
According to Miller, students with varying levels of experience and expertise came from across the U.S. and even Australia to participate in the courses.
He noted the Intermediate Installation training now includes time for demonstrating and applying more in-depth techniques and examining installation and nuances between factory-finished and unfinished flooring, including installing borders, skirts and aprons.
Meanwhile, Miller said the Intermediate Sand & Finish class expands the time spent hands-on with equipment. Students get to apply stains, sealers and finishes, but they now have time to see the end results and then properly asses their work. The training now also covers alternative finishes, including penetrating oils, UV curing, reactive colorants, and hard waxes.
For more information, call (800) 422-4556 or visit nwfa.org.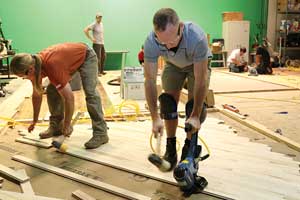 Mohawk to Expand South Carolina Manufacturing Facility
Landrum, S.C.—In a continued sign the economy is improving, Mohawk Industries announced it will invest $10 million at its Landrum, S.C., commercial carpeting facility, located in Spartanburg County.
With this expansion, Mohawk expects to create approximately 20 new jobs at the facility, which currently employs approximately 160 individuals.
Mohawk currently operates two manufacturing facilities in South Carolina—the Landrum plant as well as a site in Bennettsville in Marlboro County—along with a distribution center in Orangeburg.
The Landrum team is part of Mohawk's global workforce of more than 31,000, of which approximately 1,150 employees are located in South Carolina.
According to Miles Wright, vice president of commercial manufacturing for Mohawk, the facility expansion will substantially upgrade the operation's looms and improve technology to support future business growth.
"By modernizing the looms at the Landrum facility, we can update the styling of the carpet we produce there and keep the business viable for the men and women at the facility," he said. "This is a good investment for Mohawk and will help us remain the industry leader in high-end performance woven carpet. Mohawk is proud to be one of the few American companies making these types of products."
Currently, the 340,000- square-foot Landrum facility produces high-end, woven contract commercial carpeting for both domestic and international customers. Additionally, the plant manufactures aviation carpet for most domestic and some international airlines and airplane manufacturers.
For more information, call (706) 629-7721 or visit mohawkflooring.com.
Beaulieu International to Build Sheet Vinyl Plant in U.S.
Cartersville, Ga. — Beaulieu International Group said it will invest $200 million to a campus-style manufacturing facility here. This will be the first U.S. manufacturing plant for the European company which is a totally separate entity from Beaulieu America. Currently, Beaulieu International has 3,500 employees in 26 plants and nine sales offices spread across 13 countries.
According to the company, it will establish its U.S. headquarters in Cartersville on 120 acres and create 350 jobs in the next five years. It's expected to be operational by the end of next year.
Initially Beaulieu International will manufacture one product, a 16-foot cushioned vinyl flooring, in one building on the campus. That product is now produced in Belgium and shipped to the U.S. It could eventually produce a variety of products at the site, but not carpet, noted company officials.
For more information, visit beaulieuflooringsolutions.com/en.
Portion of Georgia's I-85 Dedicated to Interface's Anderson
The stretch of Georgia's I-85 from Exit 18 to Exit 2 has been dedicated and renamed in tribute to the late Ray Anderson, founder of Interface.
LaGrange, Ga.—Sixteen miles of Georgia's Interstate 85 in Troupe County have been dedicated to Ray Anderson—the late founder and chairman of modular carpet manufacturer, Interface, whose flagship manufacturing operation is based at either end of the corridor, in West Point and LaGrange. The stretch of I-85 from Exit 18 to Exit 2 is now known as the Ray C. Anderson Memorial Highway.
"Ray Anderson was truly a visionary," said Randy Nix, state representative. "Not only did he revolutionize the carpet industry, but his commitment to manufacturing sustainability has proven that good environmental stewardship is good business."
For more information, call (678) 404-9225 or visit raycandersonfoundation.org.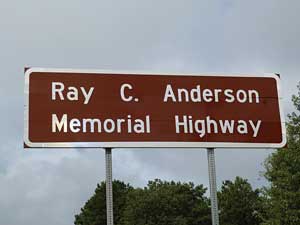 Quick•Step Launches 'Style My Floor' Digital Shopping Tool
Quick•Step's new Style My Floor digital tool lets consumers realistically see on mobile devices what a particular Quick•Step floor would look like installed in any specific room of their home.
Dallas—Quick•Step's new Style My Floor digital shopping tool was developed to let consumers realistically see on their iPhones, iPads and Androids, in real time, what a particular Quick•Step floor would look like installed in any specific room of their home.
"Studies show consumers conduct extensive research online before ever entering a flooring store" said Paij Thorn-Brooks, vice president of brand marketing for Unilin, Quick•Step's parent company." Because of this, Style My Floor is one more powerful way in which our brand supports the in-store sales efforts of our Quick•Step retailer partners."
She noted, the digital tool uses augmented reality technology to display a virtual Quick•Step floor over the room's existing floor when viewed on the device's screen. This allows the consumer to accurately envision what her room will look like with a new Quick•Step floor, before making a purchase.
In the same way a consumer holds up her iPad to take a picture of her living room, Style My Floor allows her to view the room on the screen—but instead of her current floor, her eyes will see the Quick•Step product of her choice as the actual floor of her real room," Thorn-Brooks explained. "With simply the stroke of a key, she can try out as many different Quick•Step floors as she wants to—in real time. Quick•Step's entire line can be viewed with Style My Floor."
Enabling a 360-degree view, the Style My Floor app shows details of each Quick•Step product. In addition, users can take photos, share images, find a retailer, and order up to five product samples for free.
For more information, call (888) 387-9882 or visit us.quickstep.com.