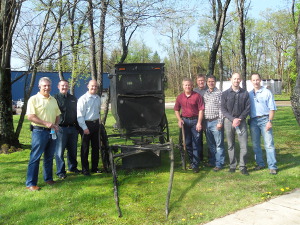 HomerWood officials lead representatives from Denver Hardwood on a tour of the mill's Titusville, Pa. plant.
HomerWood recently hosted distributor partner, Denver Hardwood Co. for a tour of its mill and corporate offices in Titusville, Pa.
"The relationship between manufacturers and distributors is an important one and we need to make sure that our partners have all of the tools to thrive in such a diverse sector, such as hardwood," said Paul Walker, general manager, HomerWood.
Enos Farnsworth, general manager, Denver Hardwood, explained that he had taken the tour and realized that it would be an eye-opening experience for his staff, so he arranged a trip for all of his branch employees to visit the mill.
"The wood business is very competitive and I felt the only way to tell the story was to actually experience manufacturing through the entire process," said Enos. "When I returned from my [first] visit, I made the decision to send every employee involved with in the sales of HomerWood, so they could experience the commitment to quality and the 'hands on' approach of the brand."
The milling process itself, Enos explained, has taken quality to the next level with its handcrafted approach. "In today's world of automation and speed of manufacturing, I was surprised at the amount of people that handled the product," said Enos. "This was most apparent in the inspection process—the claims ratio with HomerWood is the lowest in our company and after this tour, I can understand this commitment to quality."
According to Enos, the trip was not only a great learning experience for his staff, but it also allowed them to become more confident in the HomerWood brand, a benefit that will trickle down to Denver Hardwood's retail partners. "The success of our key retailers is customer satisfaction and once the salespeople experience HomerWood, this will be the premium product offered in their facilities."
HomerWood has pioneered many innovations in the hardwood flooring industry, including its Character Grade, Amish Hand-Scraped and Smoked Specialties flooring. Its all encompassing line now includes traditional, smooth faced classics to character looks that embody a balance of nature and craft, to texture rich, contemporary designs for both residential and commercial interiors, according to the company.
For more information about HomerWood Products, visit Homerwood.com.