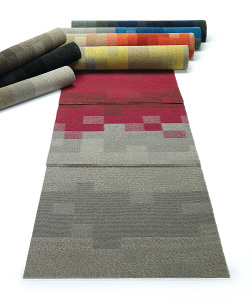 Tandus Centiva's new Code Series combines large and small-scale patterns.
Tandus Centiva's new Code Series gives architects and designers endless opportunities for dividing or defining a space, according to the company.
Available in several distinct styles, Code Series delivers innovative ways to combine large and small-scale patterns.
Code—Tip-shear and tonal shifts strip away the hard edges associated with technology while maintaining the 90-degree angles that provide a timeless architectural aesthetic. The Code palette provides color stepping for modular gradations and new tertiary brights for pops of accent color.
MegaCode—Taking Code up a notch in scale, MegaCode can be used on its own in lobbies and other large open spaces or in combination with Code and Code Transition to create even larger modular designs.
Code Transition—Specifically designed as a connection piece to combine products and colorways, Code Transition mixes a range of tones into an orderly cascade of unexpected beauty.
Code Series is enhanced by the introduction of new yellow, green, magenta and orange solution-dyed Tandus Centiva Dynex yarns. Like all Tandus Centiva soft surface products, Code, MegaCode and Code Transition are 100% recyclable through Tandus Centiva's ReStart Program, the industry's first to be SCS-certified, according to the company.
Click here for more information.