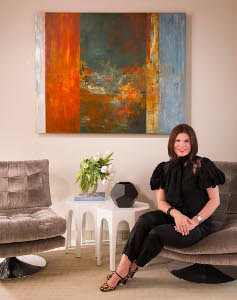 Denise McGaha is Currey & Co.'s new brand ambassador.
Denise McGaha has been appointed brand ambassador of Currey & Co.
"This newly formed position will enable the company to build a deeper connection and awareness with our customers," said Bob Ulrich, vice president of sales/marketing.
McGaha's experience as an interior designer, blogger, presenter and marketing executive for luxury brand Neiman Marcus makes her the perfect advocate for the Currey brand, according to Cecil Adams, Currey's creative director. "This unique mix of experience makes Denise a great fit to understand and spread the word about Currey & Company to her peers, many of whom are our customers and to others we hope to become our customers."
McGaha will provide an access point to further engage customers and understand their business needs. "Denise has good taste, abundant enthusiasm for design, and a thorough understanding of the design business. Together these attributes make her a meaningful and important voice for our company," said Brownlee Currey, president.
For more information, visit curreyandcompany.com.