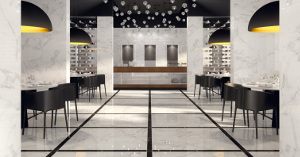 New from American Tile & Stone's Deluxe line of porcelain tile.
American Tile & Stone has added the Deluxe line of Italian porcelains to its offerings.
In the Deluxe line of through-color porcelain, technology and aesthetics merge to create marble-like surfaces dedicated to design. "The Deluxe line offers the beauty of marble with the durability of porcelain and extends the marble look to high traffic situations," said Robert Hendon, vice president and general manager of American Tile.
American Tile & Stone has been an operating subsidiary of Acme Brick Company since 1994. The company has locations in Austin, Texas, San Antonio, Houston, Fort Worth, Texas and a 125,000 square foot distribution center in Dallas.
For more information, visit americantileandstone.com