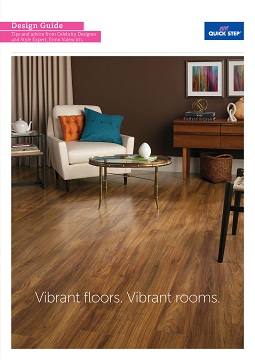 Quick-Step recently launched its online "Design Guide." The primary goal of the Design Guide is to make it easier for consumers to choose the right Quick-Step floor.
"Every aspect of our comprehensive merchandising and selling system is designed with one purpose in mind – to help our retailers make more money by selling more Quick-Step product," said Paij Thorn-Brooks, vice president of brand marketing for Unilin (Quick-Step's parent company). "Research shows that consumers want choices when shopping for flooring, but are often overwhelmed by the number of options. Our new Design Guide helps take the intimidation out of selecting a new floor."
Throughout the pages of the Quick-Step Design Guide, the brand's celebrity designer partner Erinn Valencich walks consumers through the process of selecting the right floor for their needs. "People naturally start shopping by color," said Erinn Valencich, who is also an interior designer, style expert, and recent contestant on NBC's design reality show American Dream Builders. "So our new Design Guide organizes Quick-Step floors by color category, describing each color category and what it brings to the space."
"Within this design tool, I also provide professional style advice such as complementary wall color recommendations and suggestions for cabinetry finishes to go with each of the color categories," she added.
Quick-Step's Design Guide is available online on Quick-Step's main website (www.us.quickstep.com) and via the new Quick-Step Style blog (www.quickstepstyle.com), or at no charge in printed form through retailer showrooms.