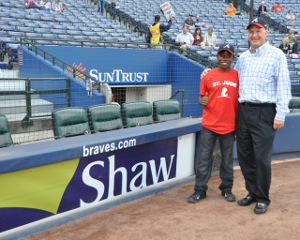 Randy Merritt, right, president of Shaw Floors with Archie, a 14 year-old lymphoma survivor at an Atlanta Braves game.
Shaw Floors joined the Atlanta Braves to honor 14-year-old cancer survivor, Archie, and St. Jude Children's Research Hospital's life-saving work at the Atlanta Braves game at Turner Field.
"Passion for the lifesaving mission of St. Jude Children's Research Hospital runs deep at Shaw Floors," said Randy Merritt, president of Shaw Floors. "Our dealers and our associates constantly look for opportunities to creatively support St. Jude. Honoring a patient at an Atlanta Braves game is just one way we can increase awareness of childhood cancer and help St. Jude with its important research."
Archie, a lymphoma survivor, who plays football, swims and runs track, experienced a VIP batting practice with the Braves and went out on the field as the Braves' honorary team captain on behalf of the Georgia-based flooring company.
Diagnosed in 2012, Archie and his family turned to St. Jude Children's Research Hospital for help. His family was already familiar with St. Jude because his grandmother worked as a nurse there for two years in the mid-1980s. Archie's recent scans have shown him to be cancer free, and he returns to St. Jude every six months for checkups.
According to Merritt, Shaw's work with the hospital began by sponsoring the St. Jude Dream Home Giveaway in 2011. Since then, the partnership has evolved into a multi-faceted program that now includes a co-branded carpet cushion and a carpet tile collection for which a portion of proceeds go to St. Jude; a consumer promotion aptly named "You Save. We Give," along with sponsorship of the St. Jude Memphis Marathon. In 2013, St. Jude recognized Shaw as the "New Corporate Partner of the Year."
"We were honored to celebrate Archie, an inspirational young man and elevate the work of St. Jude in our community," said Trey Thames, vice president of residential product and marketing at Shaw Floors.