Armstrong Names Maier CEO, Exec VP
Lancaster, Pa.—Armstrong Industries has promoted Donald Maier to CEO and executive vice president of Armstrong Flooring Products. He replaces Thomas Mangas, who left the company to become executive vice president and CFO for Starwood Hotels & Resorts Worldwide.
Maier joined Armstrong in 2010 as senior vice president, global operations excellence, and is credited with leading a lean transformation that dramatically improved manufacturing and procurement productivity, noted Matt Espe, Armstrong's CEO. Maier also established a disciplined project management process and implemented a safety program that has delivered world-class results. Under his leadership, the company right-sized its manufacturing footprint to correspond to demand around the world, consolidating facilities in the U.S. and building and opening new plants here and around the world.
Espe added, "In Don, we have a leader with a great combination of P&L and operations experience, as well as a strong understanding of the key issues and opportunities for our flooring business."
For more, call (717) 397-0611 or visit armstrong.com.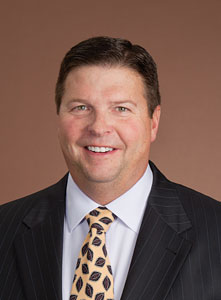 Donald Maier
USG, Powerhold Create Private Label
Chicago—USG Corp. has entered a private-label agreement with Powerhold, the largest flooring accessories distributor network in the country.
Scott Crandall, USG's national account sales and business development manager, said this partnership greatly expands USG's distribution network in North America with the distributors represented by the Floor Covering Distributor Alliance (FCDA). "It will provide us with an opportunity to serve the largest flooring accessories distributors in every market across North America."
The five Powerhold products covered by the agreement include Powerhold 850 Fast Finish Patch & Skim Coat; Powerhold 650 NE Patch Plus; Powerhold PC-5K Self-Leveling Underlayment; Powerhold LP-4K Self-Leveling Underlayment, and Powerhold 900P Primer.
Dan Lee, FCDA's president, noted, "The Powerhold Brand has become a recognized and respected brand in the industry, and working with USG will help to further develop the Powerhold floor preparation line of products."
For more, visit power hold.com or usg.com.
Karndean to Expand in Westmoreland County
Harrisburg, Pa.—Karndean Designflooring is expanding its operations in Penn Township, Pa., creating nearly 40 jobs over the next three years, in addition to the 69 already there, according Ed Perrin, CEO, who said this initiative supports Gov. Tom Corbett's JOBS1st PA initiative.
Karndean received a funding proposal from the Department of Community and Economic Development, which includes a Pennsylvania First Program grant, funding for employee skills training and job creation tax credits, according to the company.
For more, call (888) 266-4343 or visit karndean.com.
TISE East Renews Focus on Education
Miami—According to show officials, the International Surface Event East's (TISE East) active-learning formats will allow attendees to experience over 50 educational sessions, engage in live demos, discover new products and trends during Show Floor Walk & Talks, attend off-site tours, gain industry-recognized certifications and share insight with colleagues during a variety of networking events. The show takes place here Oct. 19 to 22 at the Miami Beach Convention Center.
"We have an impressive line-up of presenters who have enthusiastically embraced the idea of interacting on a more personal level with attendees," said Michele Nebel Peake, TISE East's conference manager.
According to Peake, the show's educational programs are targeted to specific audience segments, which include specialty flooring retailers, installers, distributors, architects, builders, designers, care/maintenance/restoration and fabricators. In addition, a large number of sessions qualify for continuing education credits.
For more, call (866) 550-6808 or visit TISEeast.com.
Virginia Retailer Reuses Cork in Style
Charlottesville, Va.— Five years after its inception, Carpet Plus' Re-Cork C'Ville program has collected over 1.1 million cork stoppers from over 60 participating locations in the Charlottesville area.
"In what began as a quest to collect wine corks for a small project focusing on cork flooring, we discovered of the almost 15 billion wine corks sold each year, the majority end up in landfills," said Liz Eure, Carpet Plus' director of marketing. "We saw this as an opportunity to give back to our wine-loving community, and Re-Cork C'Ville was born."
Putting these recycled cork stoppers to use, the independent specialty retailer has partnered with Yemm & Hart, a Missouri-based company that recycles the stoppers into tile.
Carpet Plus recently shipped more than 700,000 used wine stoppers—over 6,000 pounds—to be recycled into cork tiles, with plans to carry the flooring line, according to Duane Cassis, owner of Carpet Plus.
For more, call (434) 977-7587 or visit carpetplusonline.com.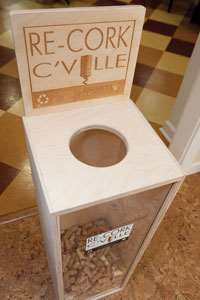 Carpet Plus' Re-Cork C'Ville program has collected over 1.1 million cork stoppers since 2009.
Associations Partner to Address Industry Issues
Anaheim, Calif.—In an effort to address and improve pressing issues and problems in the industry, 15 associations have partnered to form the Floor Covering Leadership Council (FCLC).
At FCLC's inaugural meeting, held in Orlando, Fla., the council identified and focused on three industry concerns—efficient, effective and affordable professional training and instruction; the installation industry's future, and effective and ongoing communication between industry associations.
Organizations that have so far committed include the World Floor Covering Association (WFCA), National Wood Flooring Association (NWFA), National Institute of Certified Floorcovering Inspectors (NICFI), Marble Institute of America (MIA), Ceramic Tile Distributor Association (CTDA), Carpet Cushion Council (CCC), Resilient Floor Covering Institute (RFCI), Carpet & Rug Institute (CRI), National Tile Contractors Association (NTCA), Flooring Covering Installation Contractors Association (FCICA), Certified Flooring Installer (CFI), Floor Installation Association of North America (FIANA), National Association of Floor Covering Distributors (NAFCD), North American Laminate Floor Association (NALFA) and American Flooring Association (AFA.)
"This group provides a forum for us to not only learn from each other, but to also develop products and services that will have tremendous benefits to the entire industry, said elected chair of the council, Scott Humphrey, WFCA's CEO.
For more contact Humphrey at (800) 624-6880 or shumphrey@wfca.org.
Manufacturers Release Sustainability Reports
Dalton—J+J Flooring Group, Mohawk Industries and Shaw Industries have each released sustainability reports highlighting their sustainable practices and the impact they have on the companies' customers, employees, shareholders, communities and the environment.
J+J's report provides an update on sustainable advances in product development, resource reduction, certifications and progress toward the company's 20/20 vision goals. "We continue to value responsibility, which means transparency regarding the sustainability of both our products and operations," said David Jolly, president and CEO.
According to Dave Patton, Mohawk's chief sustainability officer, the company's report underscores its commitment to good choices while maintaining consistency, transparency and accuracy in reporting. "The 2013 sustainability report includes [our] three recent acquisitions, which ensures a comprehensive report that truly covers the entire enterprise."
Shaw's report reflects the company's investment in business expansion and continued advancement of its sustainable business strategy in 2013, noted Vance Bell, chairman and CEO. "Sustainability at Shaw means driving innovation into the business, protecting and efficiently using resources, and actively engaging with our associates, customers and communities while focusing on long-term financial success."
For more visit jjflooringgroup.com, mohawksustainability.com and shawfloors.com.
Shelton Group Looks at Consumer Green Habits
Los Angeles—A recent study conducted by the Shelton Group, a marketing and communications firm focusing on the sustainability and energy sector, found 70% of consumers want "greener" products and corporate commitments to sustainability; 30% of Americans select products based on a company's green reputation, and 25% look to see if a product has been certified.
Despite these findings, the study indicated many green purchases and behaviors—including selecting green cleaning products, personal care and food products, and energy and water conservation—are either stagnant or in decline.
"It's very hard to predict consumer behavior," said Stephen Ashkin, president of The Ashkin Group, a consulting firm specializing in greening the cleaning industry. "When the economy tanked a few years ago, many believed people would stop selecting green products. That did not happen, [but] now that things have improved, there appears to be some stagnation. [However], I suspect this is temporary and green purchasing will grow in coming years."
For more, call (865) 524-8385 or visit sheltongrp.com.
Editor's note: For complete coverage of these and other industry news stories visit our website at floortrendsmag.com, where you can also sign up for a free subscription to our daily enewsletter, TalkFloor.com.