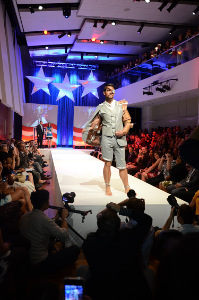 USG products were used in creating a garment for the Cosmo Couture fashion show.
USG Corp. recently teamed up with Georgetown architectural design firm EYP for the Cosmo Couture fashion show in Arlington, Va. The fundraising event, which benefits My Sister's Place, an organization dedicated to eradicating domestic violence and supporting survivors of domestic violence, joined 25 teams of manufacturers and designers to create wearable fashion made entirely from building materials. 
The design theme for this year's event paid tribute to our nation's presidents; each design team randomly selected one of the 44 U.S. presidents and EYP/USG drew Woodrow Wilson. USG/EYP's garment was inspired by the period in which president Wilson served. 
"It's a unique event that not only reinforces the ties between the architecture, design and building communities, but benefits a cause USG strongly believes in," said Jennifer Hamner, USG Architectural sales representative. 
According to Hamner, USG products used in creating the garment included Durock Shower and Tile Membrane and an assortment of perforated metals, specialty metal ceiling grid and accessory clips. 
For more information, visit usg.com.