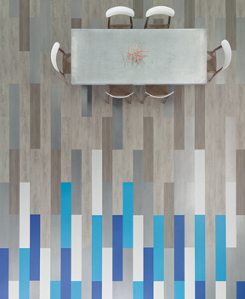 A product from Shaw on the GSA schedule.
This year's NeoCon East commercial design exposition and conference will be held Oct. 29 & 30, at the Baltimore Convention Center.
Featuring more than 200 exhibitors, innovative designs and building resources as well as 40 CEU-accredited seminars, association forums and noteworthy keynote speakers, NeoCon East will offer the largest concentration of products and services under GSA's Multiple Awards Schedules Program for Workplace Environments (Furniture, Furnishings, Floor Coverings and more), according to show officials. With benefits like complimentary registration, education and round trip transportation from Washington D.C. and Philadelphia to name a few, it is a must attend event for government employees.
With more than 40 CEU seminars available, programming is designed to meet the needs of both the private and public sector. Government employees with valid I.D. can take advantage of complimentary CEU accredited educational seminars coded with a [W] or [T] as well as an educational track presented by GSA experts. The GSA track kicks off with an 8 a.m. presentation on "Marketing to the Federal Government" led by Dan McAneney, director of business development for GSA IWACenter in Philadelphia. He will discuss everything from advertising and social media to how to partner with GSA to better provide support to federal customers. Other seminars that day include "Furniture Procurement," "GSA is Helping the Government Get Fit" and "GSA Reverse Auction."
In addition, IIDA's Government Design Forum will focus on lessons learned in workplace transformations. Award-winning AECOM designer Irena Savakova takes the stage at 11 a.m. as Wednesday's keynote presenter. Focused on architectural and interior development for federal, corporate commercial and educational facilities, she will explore her recent work including the Social Security Administration Campus in Baltimore and conceptual design for US embassies in Zimbabwe and Mauritania. Thursday's programming is equally impressive with basic and intermediate level seminars including "The Basics of Property Disposal," "Purchasing Green Products," and "E-Tools Overview." 
This year, NeoCon East will also host the GSA's Quality Partnership Council (QPC) Meeting. The QPC's mission is to foster a common understanding among the customer, contractor, and GSA through communication and education while working to continuously improve the processes involved in effectively serving each other. The full day general session will be held on Tuesday, Oct. 28 and is open to the GSA, federal customers, and its Schedule vendors. Those interested in attending can register here.
NeoCon East is vitally important to anyone responsible for the interior design, specification and procurement of products for the government, according to show officials. With approximately 75% of exhibitors on the GSA schedule—the largest concentration of products and services for commercial interiors—NeoCon East attendees can engage with exhibitors who can help them find solutions for today's government workplace. Furniture, flooring, fabrics, interior building products and technology are among the cutting edge products on display, which are an integral part of meeting the challenge of creating high performing spaces, often times within a reduced footprint. Companies including Herman Miller, Knoll, Teknion, AIS, Global, Steelcase and Patcraft are among the notable GSA schedule holders standing ready to service the government and provide face-to-face support and product knowledge.
GSA's IWACenter will provide industry knowledge and contracting expertise for furniture and furnishings products and services. Representatives will be actively working with attendees and vendors, conducting tours of the show floor and assisting with questions about everything from the procurement process to mission requirements to the GSA e-tools library.