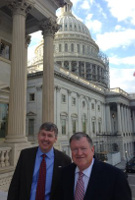 Joe Yarbrough, right, CRI's president, in Washington with Rep. Rob Woodall (R-Ga.).
Joe Yarbrough, president of the Carpet & Rug Institute (CRI), traveled to Washington, D.C., for two days of back-to-back meetings with congressional representatives and the presidents of two allied trade associations.
Though active in government relations for many years on behalf of his former employer, Mohawk Industries, Yarbrough said the recent trip was notable as his first opportunity to meet with congressional representatives on behalf of the entire CRI membership. Yarbrough retired from Mohawk in March as senior vice president for advanced manufacturing engineering.
During his visit, Yarbrough met with Senator Johnny Isakson (R-Ga.) and 10 current and former congressmen from Georgia, South Carolina and Tennessee, as well as several key congressional staff members.
In addition to his congressional activities, Yarbrough held separate meetings with counterparts Paul O'Day and Joseph McGuire, presidents of the American Fiber Manufacturers Association (AFMA) and the Association of Home Appliance Manufacturers (AHAM), respectively, to discuss issues those associations have in common with CRI.
"While things have eased somewhat since the lows we saw in 2009 and 2010, the carpet industry is still feeling the impact of the distressed housing industry," said Yarbrough. "The industry's strength, however, is exemplified by the billions of dollars CRI member companies have invested in carpet production assets and innovative technologies over the past several years. To help ensure a strong industry going forward, one role of the CRI is to maintain close relationships with our congressional leaders and inform them of the impact that laws and regulations have on this industry."
For more information, visit carpet-rug.org.