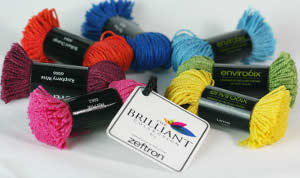 Zeftron's new Brilliant Collection is an accumulation of seven vibrant colors.
Zeftron nylon, a renewable premium nylon 6 fiber, is introducing its Brilliant Collection, an accumulation of seven vibrant colors. The new colors bring more styling options that add a dash of energy or excitement to a hospitality, corporate or other commercial interiors project, according to the company. The collection gives designers even greater options and inspiration for creating or specifying the commercial carpet product they desire.
The Brilliant Collection is the result of a collaborative process between Zeftron and the in-house design teams of its mill partners. Zeftron also received input from designers across the country through its 2013 Color Survey. Designers were asked to vote on the top five colors most important to them.
The seven colors of the Brilliant Collection are: Hot Pink, Lemon, Brilliant Orange, Lime, Electric Blue, Bay Blue and Raspberry Wine. "Each new color pigment was developed and formulated to the same industry-leading standard as the other 105 colors in the Zeftron color palette, said Tim Blount, Zeftron business leader. "As a result, the new colors harmonize with Zeftron's other colors and perfectly complement Zeftron's existing base shades. Additionally, designers and specifiers can rest assured that each new color will meet its color and performance requirement every time. Like all Zeftron yarns, the new colors are solution-dyed, come with a minimum of 25% recycled content and are backed by Zeftron's lifetime warranties for colorfastness, stain removal, wear and static control.
"The optimism we're seeing in the commercial interiors industry is reflected in the way designers are using a variety of colors in multiple ways to achieve their design visions," said Blount. "Our new colors meet the need for vibrant color variation in commercial carpet styles. We think designers will enjoy playing with these new colors to add a little more fun and creativity to the carpets they are specifying or designing."
Zeftron will soon introduce nine new base shades to further meet the demands of the marketplace. These new colors are enhancers to Zeftron's existing color palette families of blues, grays, blacks and beiges.
For more information, visit zeftronnylon.com.