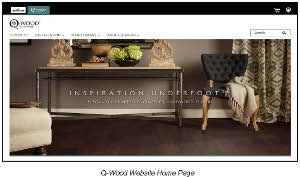 Quick•Step's new website for its Q-Wood category.
Quick•Step has launched a website, us.quick-step.com/QWood, to support its Q-Wood category of flooring. Q-Wood is crafted engineered hardwood flooring that combines the rich look of a hand-rubbed oil finish with the durability and performance of a urethane coating, according to the company.
"Research shows that consumers conduct extensive research online before ever entering a flooring store," said Paij Thorn-Brooks, vice president of brand marketing for Unilin, Quick•Step's parent company. "Then, once they return home from the store, consumers again go online to continue their research, refine their thinking and move further along the purchasing path. It is important to remember that flooring is a complex sale. Considerations such as color, style, real wood or laminate, texture, durability, and price each play a role. To simplify this complexity for the consumer, our goal during the development of the Q-Wood website was to present information in a way that is simple, clear and easy to digest. By giving consumers the information and tools they need to make an informed purchasing decision, we are supporting our retail partners' in-store efforts, helping them increase their sales of Q-Wood."
On the new website, consumers can view and research products; order samples; learn about product installation and maintenance, and find a retailer.
Click here to view the new website.