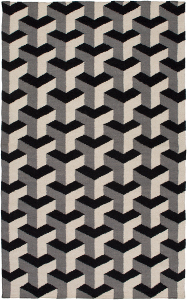 Rivington—new from Surya's line of rugs from DwellStudio.
Surya will launch a line of rugs from DwellStudio at the Fall High Point Market in High Point, N.C., Oct. 18-23. Designed to complement DwellStudio's modern yet accessible design aesthetic, the collections feature clean, graphic lines and rich texture brought to life in a sophisticated color palette to create looks that are distinctly of-the-moment yet evoke a classic, artisanal feel, according to the companies.
"We have always believed in gorgeous layers of texture and pattern to create amazing spaces with depth and soul," said Christiane Lemieux, founder and creative director, DwellStudio. We also seek to give our designers and customers the tools that will allow them to create their perfect space. Whether it's mixing a subtly textured rug with bold fabric choices or making the rug the statement piece, rugs provide the perfect way to pull any room together."
Collections include:
• Ludlow & Thompson – Traditional design motifs are re-envisioned in these luxe hand-knotted rug collections finished with an antique wash to lend depth and lustrous sheen.
• Madison – This collection of hand-tufted wool rugs draws inspiration from classic geometric patterns to bring a sense of modern sophistication to interior spaces.
• Rivington – Hand-woven of wool, this eye-catching collection features bold, graphic motifs reminiscent of '60s Op Art designs to create an energetic, contemporary look.
• Tangier – Clean lines take shape in this collection of hand-knotted jute rugs, bringing rich texture and dimensionality while imparting a decidedly hip, down to earth feel.
According to Satya Tiwari, president of Surya, DwellStudio is recognized for its streamlined design aesthetic that also achieves high marks for comfort and versatility. "Like DwellStudio, we are continually innovating and pushing the boundaries of what is possible in design. DwellStudio's trendsetting style and fashion forward approach consistently result in beautiful, high quality products that are at once functional and stylish. Our brands share a natural synergy, making the partnership with DwellStudio a great fit as we continue to expand our product portfolio."
Lemieux added, "As a design house obsessed with quality, we believe we have found the perfect partner in Surya. Not only is Surya able to offer us a myriad of designs, materials and techniques, but it has made it possible for us to bring our design vision to fruition in a broad range of constructions—from gorgeous, hand-knotted creations to super hip shag—all in one place. We look forward to introducing the new rug collections at market and to further developing our partnership with Surya."
Market attendees are invited to explore the DwellStudio line at Surya's flagship showroom, Showplace 4100, which will be open daily from 8 a.m. to 8 p.m. Surya is also hosting several educational and social events and will serve a complimentary catered breakfast and lunch each day, along with hors d'oeuvres and cocktails each evening. A complete listing of showroom events can be found at surya.com/market-events.