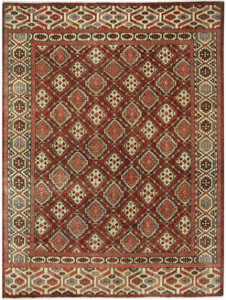 Gabbeh, one of three new additions to Capel's Biltmore Legacy collection.
Capel Rugs has added three patterns to its Biltmore Legacy collection—Keshan, Gabbeh and Shiraz.
Hand-knotted at 64 knots per square inch, the collection is made in India using a blend of New Zealand and Argentine wool with a 1-inch brush fringe. Sizing ranges from 2.6 X 9- to 10 x 14-feet. Keshan is available in blue/red; Gabbeh in a red multi colorway; and Shiraz is classic red and silver gray.
In addition, Capel is expanding the color range of two of its Biltmore rug designs. The Granada rug is now available in a navy and cream colorway and Pergola is now available in navy. Like the entire Biltmore line, these rugs were inspired by Biltmore founder George Vanderbilt's experiences at home and abroad, according to the company.
Capel will celebrate these latest additions on Sunday, Oct.19 from 2 to 5 p.m. at the High Point Market, which runs from Oct. 18 to 23 in High Point, N.C.
For more information, visit capelrugs.com.