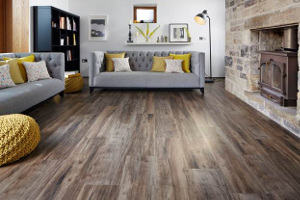 Karndean has expanded its LooseLay range with six wood planks.
Karndean Designflooring has expanded its collection of wood designs with the addition of six wood planks to its LooseLay range.
Inspired by nature, the collection's six new woods feature the light, blonde hues of Cambridge, the warm ginger tones of Burlington and the rustic lime-washed look of Hartford. LooseLay's complete collection will now feature 18 wood and eight stone designs.
"The new LooseLay additions are a fresh take on our friction-backed products," said Jenne Ross, product manager. "We're combining our inspiration of rustic looks and interesting grain patterns with up-and-coming color trends to offer some of our best designs to date."
Popular for its easy-to-install approach, Karndean LooseLay is an innovative format of luxury vinyl flooring designed for anyone looking for a convenient and stylish flooring solution, Ross added.
Available in large-scale wood-look planks and tiles, Karndean LooseLay flooring is perfectly placed to work in almost any space in the home and it is easy to install and can be laid over most existing hard floors, according to Ross.
Karndean said LooseLay is 100% recyclable and its friction grip backing and increased dimensional stability secures the floor firmly in place. It also can help reduce sound, making it the perfect solution for reducing noise levels in busy playrooms, bedrooms and garage/loft conversions.
Furthermore, Ross said, the enhanced acoustic properties and excellent environmental credentials make LooseLay an ideal flooring solution for commercial spaces. Quick and easy installation results in cost savings and minimal downtime—perfect for busy offices, retail spaces or hospitality environments.
For more information, visit karndean.com.