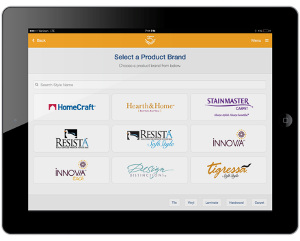 An iPad app is now available for Flooring America/Flooring Canada customers.
Flooring America/Flooring Canada, a division of CCA Global Partners, has launched My Floor Guide—a consumer app designed to enhance the consumers' shopping experience by allowing them to easily view brand and product information on an iPad while shopping, according to the company.
The new app will feature product categories such as carpet, tile, hardwood with brand-specific information as well as brand videos and warranty information so customers can access relevant features and benefits of product they might be interested in selecting for their homes 
My Floor Guide features a project calculator so customers can get a real-time estimate on the cost of their project. In addition, the app allows customers to compare products, pricing and sale items while viewing the products on display in the store.
"By empowering our customers with access to an in-store shopping app like My Floor Guide, we're providing an easier way for them to obtain relevant features and benefits of our wide selection of products," said Andy Valeriani, senior director of online marketing at Flooring America. "Moreover, we are continuing to identify ways in which Flooring America and Flooring Canada members can differentiate themselves from the big box retailers."
For more information, visit flooringamerica.com or flooringcanada.ca.